For over 140 years, the Benevolent and Protective Order of the Elks has been dedicated to serving our fellow citizens. Here in Florida, the 56,000 men and women of the Elks in over 100 Lodges from the Panhandle to the Keys are enjoying the camaraderie, compassion, community outreach, and support that are all part of being an Elk. Although you may already be aware of the social benefits of our great fraternal organization, you may not know that each Lodge has its own unique amenities. Florida Elks enjoy indoor and outdoor sports activities, entertainment, parties, dances, dining, and much more.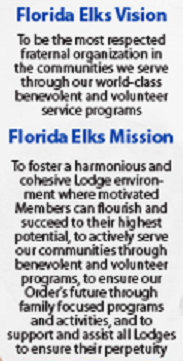 More importantly, Florida Elks take great pride in giving back to our communities. Nationally, each year, the nearly one million Elks working together with the Elks National Foundation provide over $80 million for charitable programs such as the Hoop Shoot competition, scholarships, drug awareness in our schools, and assistance for veterans of all wars.
In Florida alone, Elks provide millions of dollars in assistance to the neediest among us:
• The Army of Hope provides assistance to veterans and military families;
• The Elks Children's Therapy Program brings mobile, in-home therapy services to children across the state; and
• The 400-acre Elks Youth Camp in Umatilla builds character while simultaneously inspiring Florida's youth by teaching respect and responsibility.
For more information on the Florida State Elks Association visit their website.
Florida Elks are living our creed…