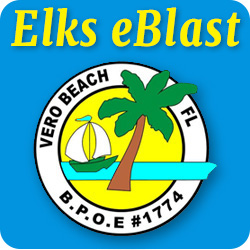 Email is the primary means the Lodge uses to communicate with members and other interested parties. We send out about 250 emails per year to notify you of events.
Click here to see a list of the 20 most recent eBlasts. Just click the subject to view the email in a new window of your web browser
If you're not getting our eBlasts sent from events@veroelks.com via our Email Service Provider, you have several options:
Click here to subscribe to our email list;
Visit our Campaign Archive often to see our most recent emails and click the subject of the ones you want to read;
Visit our Facebook page as our eBlasts are automatically posted there;
Follow the Facebook Feed on the sidebar of this page;
Follow us on Twitter @VeroBeachElks as our eBlasts are Tweeted there; or
Follow us on Twitter (without creating a Twitter account) via Text message–details are here.
Visit our News & Announcements page, the weekly Lodge Lowdown and Lodge newsletter for additional information items.