The Vero Beach Lodge deeply appreciates the sacrifices and dedication of our men and women in uniform.  To send them a bit of "Home Joy," the Vero Beach Elks Lodge has for the past eight years mailed packages of cookies to our troops in Afghanistan.
On the third Thursday of every month, Rose Tufano and a dedicated group of volunteers meet at the lodge to receive donations from members of home-baked or store-bought cookies for our soldiers.  The group carefully wraps the cookies to withstand shipment and mails them to designated locations.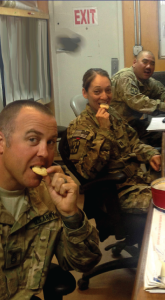 In appreciation for this exemplary support of our troops, the US Military have recently recognized the Vero Beach Elks Lodge.  We received a Certificate of Appreciation from USFOR-A Garrison Bagram Afghanistan and an American Flag from the US Marines, which was flown over Camp Leatherneck in Afghanistan, with a certificate of authenticity. During the September 2, 2014 Membership Meeting, Exalted Ruler Craig Waskow presented the certificate and the flag to Rose for her ongoing dedication and commitment to this effort.
In order to continue this valuable appreciation of our fighting men and women, we ask that members bake or buy cookies to ship to our heroes and bring them to the lodge at 9:00 am the third Thursday of every month.
At the request of our service members deployed overseas, we recently began shipping treats for their bomb dogs.
And, don't forget… shipping overseas is expensive.  Donations for shipping costs are appreciated.