In 2017, with the leadership and personal involvement of the Exalted Ruler Paul Diaz, the Lodge vastly expanded the Dictionary Project for third-grade students. Educators tell us that up to grade three, students are learning to read. From the third grade on, they are reading to learn. Having their own dictionary and learning how to use it has shown to enhance this process. After meeting with the District Coordinator for Elementary Education for the Indian River County School District, the Lodge received full support to expand its program from its humble beginning the previous school year.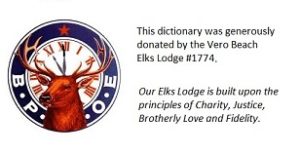 The Lodge raised the funds for this program by holding several the Kards 4 Kids Charity Texas Hold'em Tournaments. Prior to distribution, Lodge members labeled every dictionary with message dipicting where the dictionaries came from.
We supplied dictionaries to 10 schools in the District. They were:
Pelican Island Elementary;
Citrus Elementary;
Glendale Elementary;
Osceola Magnet ;
Indian River Academy ;
Vero Beach Elementary ;
Beachland Elementary;
Dodgertown Elementary;
Sebastian Elementary; and
Treasure Coast Elementary.
One Charter School, Rosewood Magnet, received their dictionaries from our Lodge as part of a Gratitude Grant from the Elks National Foundation.
A Lodge member donated funds for dictionaries for St. Helen School so they could be included in the program.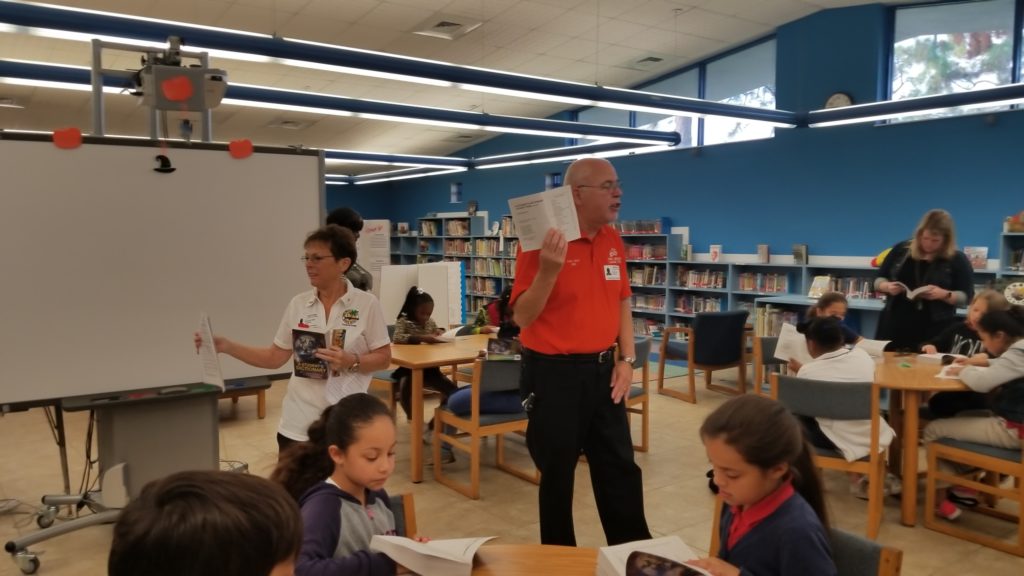 Pictured above is Exalted Ruler Paul Diaz and Pat Diaz giving third-grade students an overview of their new dictionary.
In all, over 1,400 dictionaries were distributed in 2017.  We are looking to expand this very rewarding program to other Charter and Parochial schools in the 2018-19 school year.