FLORIDA STATE ELKS ASSOCIATION
 HOPE SCHOLARSHIP
MISSION STATEMENT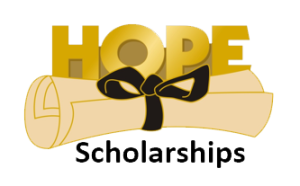 The mission of the Florida State Elks Association (FSEA) Hope Scholarship is to provide financial support for the educational needs of Florida high school seniors without which they would not be able to achieve their educational goals.
Information about HOPE scholarships for 2018 high school graduates is available at the FSEA website. In addition, pamphlets will be at the Vero Beach Lodge.

EACH APPLICATION MUST BE FILED WITH THE SECRETARY OF THE SPONSORING LODGE ON OR BEFORE DECEMBER 15 AND FORWARDED TO THE FSEA HOPE SCHOLARSHIP COMMITTEE FOR RECEIPT POSTMARKED NO LATER THAN JANUARY 15. THIS APPLICATION MUST BEAR AN OFFICIAL LODGE ENDORSEMENT AND SEAL.
If you have any questions, please contact Robert Carroll at 772-770-9255 or via email here. Bob is the District chairperson for the  FSEA Hope Scholarship.