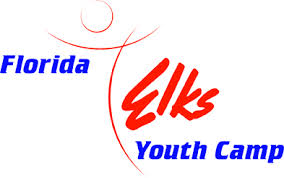 The Florida Elks Youth Camp in Umatilla, Florida  is dedicated to enriching the lives of children from the state of Florida. The camp staff presents a safe camp experience that contributes to each camper's mental, physical, and social growth. It is located on 405 acres of rolling hills, forests, lakes, and open space in Marion County, Florida. The camp is accredited by the American Camping Association and is recertified every three years to assure compliance and a safe camping environment for children.
The Camp features 52 modern cabins, each of which sleeps 9; a kitchen facility; swimming pool; golf driving range; archery; primitive camping sites; baseball; basketball; boating; ropes course; tennis; softball; a pavilion that serves as the dining hall; TV viewing area; meeting hall; and night-time activity center. Click here for an aerial tour of the facility.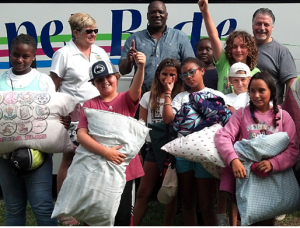 The camp opened its doors in 1991 to all of the children of Florida and has played a pivotal role in the development of many children. It offers them countless opportunities that have not previously been available to them. Their team-building skills are improved, they have access to state of the art recreational equipment, and they have a chance to enjoy themselves in a caring, social setting where the good of the children is always the priority.
We offer summer camp opportunities to any Florida child as well as Elks' children and grandchildren at a modest cost for one or two weeks. However, we don't turn away those unable to pay. Additionally, the camp is used year-round by a wide variety of organizations dedicated to enriching the lives of children in general and underprivileged and disabled children in particular.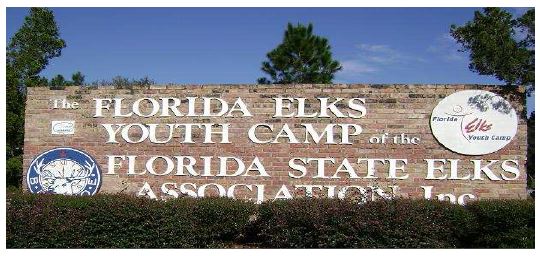 The camp has become one of the finest of its kind in the country. It is already a facility that Florida Elks take pride in, and it is a popular place for Florida's young people, as thousands use it every year.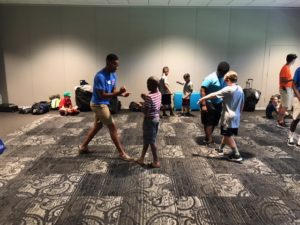 In June 2017, our Lodge invited 33 area underprivileged children to attend a week of fun, fresh air, sports and a full camping experience at Florida Elks Youth Camp in Umatilla, FL. They had a fantastic time! These children were awarded $180 scholarships to attend camp tuition free and were provided bus transportation to and from camp. This was all made possible due to the generosity of our lodge and personal member donations. Read all about it here.
The Florida Elks Youth Camp has already begun making plans for summer 2018! Our lodge is excited to have been awarded Week 3: June 24 – June 30, 2018. Starting February, 2018, we will officially begin working with the local agencies for the homeless or underprivileged and our Indian River School District to identify children in need of respite from their desperate family issues. Our lodge will again work to enrich the lives of these children by awarding a scholarship to attend Florida Elks Youth Camp, 2018.