Elks and Veterans…
"So long as there are Veterans, the Benevolent and Protective Order of  Elks will never forget them."
Nationwide, Elks are known for their intense patriotism and love of country.
As reflected in our national pledge "So long as there are veterans, the Benevolent and Protective Order of Elks will never forget them," support of our veterans is a large part of Elk activities. Elks and their families give generously hundreds of thousands of hours of their time and energy and comparable numbers of dollars are devoted to programs designed to ensure that the lives of our ill and aging veterans are enhanced.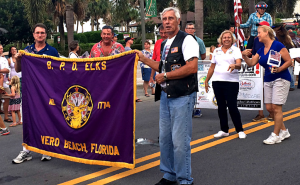 The Vero Beach Elks Lodge was a proud sponsor of the the first annual Vero Beach Veteran's Parade on July 3, 2015 and was "the place to be" following the parade. Lots of fun was had, with plenty of good food and libations.
There are 152 VA Medical Centers in the US and there is an Elk committee at work with each and every one of them. Elks programs nationwide have been broadened to include outpatients and veterans who are homeless as well.
The Elks National Veterans Service Committee coordinates and implements activities in the furtherance of service to veterans, to assist when called upon by the Armed Forces of the United States, to respond to any call for aid and cooperation as might be requested by our National Government in any emergency, and to cooperate in the event of disaster in any local area of the United States.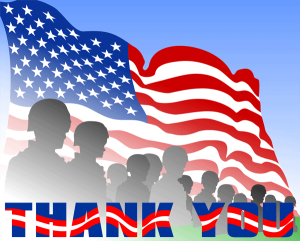 Additionally, the Elks Rehabilitation Committee was established after World War II to ensure that no man or woman who has served the nation would ever be forgotten or forsaken by its people. "The care, comfort, and entertainment … of those who fought the war and made the sacrifices that preserve our country is an obligation that will rest upon the Order until the last veteran is served."
For information about the Presidential Memorial Certificate click here.
For information on the Governor's Veterans Service Award click here.
Asbestos exposure and mesothelioma are a growing concern for Veterans and their families. The reason this cancer targets so many Veterans is because of the extensive amount of asbestos used in past military equipment. The Mesothelioma Group, a charitable organization, provides free Veteran-specific resources and support for patients and their loved ones. The goal at the Mesothelioma Group is to increase recognition, improving survival rates and life expectancy. Please visit the Mesothelioma Group page at http://www.mesotheliomagroup.com to learn about up-to-date, free, information and support, specifically focused on helping Veterans.