An Elk is an American citizen who guides his/her course in life by the cardinal principles of our order:
Charity, Justice, Brotherly Love and Fidelity!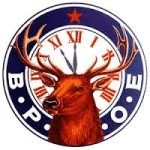 Our programs recognize a belief in God; help children grow up healthy and drug-free; quicken the spirit of American patriotism; honor the service and sacrifice of our veterans; address unmet needs; serve our communities through benevolent programs; and cultivate good fellowship.
To learn more about joining us click here.