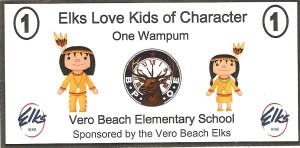 Back in November, 2014 we announced that the Lodge was awarded a $10,000 Impact Grant from the Elks National Foundation for our community outreach program in support of Vero Beach Elementary School. Click here to see that news item from our web site. A similar article appears in the Winter 2014-15 edition of the Florida Elks News in print or online here.
The time has finally come for the Elks to take action by staffing the Elks Love Kids of Character Store at Vero Beach Elementary School from 11:00 am to 1:00 pm on the following dates:
Friday, Feb. 20
Monday, Feb. 23
Friday, Mar. 20
Monday, Mar. 23
Friday, Apr. 24
Monday, Apr. 27
Friday, May 29
Monday, Jun 1
If interested call Michele to sign up at 772-321-6704.